Curt is a good friend of mine and a really hard worker. After he put so much effort into putting a new flat roof on the side of our house, working long into the cold winter evening, I wanted to say thank you with more than a few beers. Using the latest version of WordPress on an Amazon AWS EC2 instance, you can host an impressive looking website without spending weeks of effort with web designers and paying extortionate fees.
For the Curt Marshall Roofing, Solihull website, I wanted Curt to be able to post new images to a blog so clients can see the high standard of his work. With an app on his phone, he can do just that, including descriptive text. We've found it's been great for Search Engine Optimisation! Although his site targets Solihull, an area with plenty of roofers already, we found that he was coming up higher in search results in the surrounding areas because Google lists the keywords in his post. A great example was the new flat roof in Stirchley post that started appearing on page 1.
As Curt Marshall Roofing has completed more and more jobs for us, it's given us more opertunity to capture content for his website site. This video of him replacing a tiled roof in Longbridge was filmed with a DJI Osmo Mobile.
The main image on his site, showing him working on a new slate roof, was captured by my brother with a drone.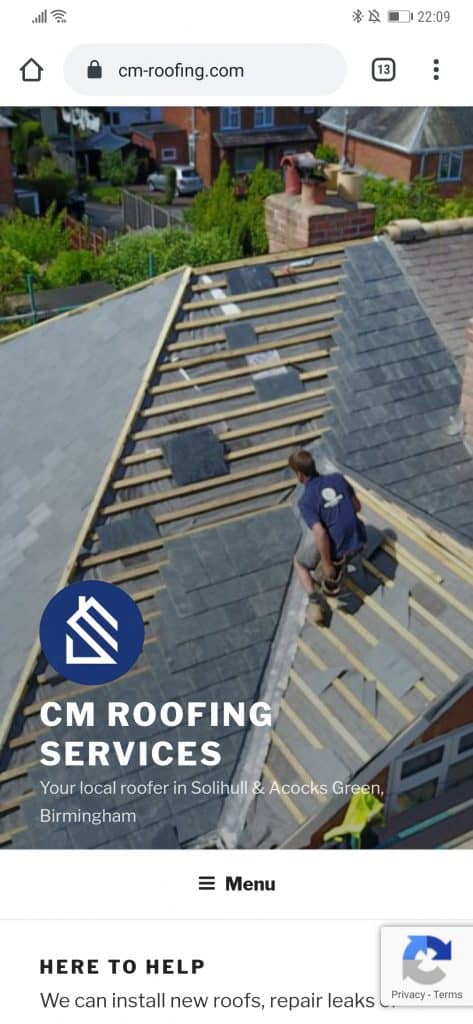 ---
Posted by: Ian Brown
Ian is a Technical Lead for Iress, a global financial software leader. He is passionate about front end web development, enjoys coding in JavaScript & TypeScript and has the goal to make the web more accessible for those that are impaired visually or otherwise.
Did you appreciate this content? Did you find a typo? Do you have any tips that worked for you? Please leave a comment.